On the night of October 7th, 1955, at 3119 Fillmore Street in San Francisco, Allen Ginsberg read his poem "Howl" to an audience for the first time. Described by those who attended as a psychologically orgiastic occasion, this event that became known as the Six Gallery Reading threw the poet into the public eye with what would later be considered one of the greatest Beat works of American literature. Jack Kerouac, close friend of Ginsberg and fellow writer, paints a vivid picture of the reading in his 1958 novel, "The Dharma Bums": "Anyway I followed the whole gang of howling poets to the reading at Gallery Six that night, which was, among other important things, the night of the birth of the San Francisco Poetry Renaissance. Everyone was there. It was a mad night […] by eleven o'clock when Alvah Goldbrook [Allen Ginsberg] was reading his poem Wail ["Howl"] drunk with arms outspread everybody was yelling "Go! Go! Go!" (like a jam session) and old Rheinhold Cacoethes [Kenneth Rexroth] the father of the Frisco poetry scene was wiping his tears in gladness." After the publication of "Howl", it faced a conflictual obscenity trial in 1957, following which the answer to the question "could a work of literature be considered obscene based on certain words, if it possessed a redeeming literary value as a whole?" was answered following two weeks of deliberation: "no". This result was not only a victory for Ginsberg but for freedom of expression within the United States as a whole. These early Beat poets were among those who paved the way for the globalised counterculture movements of the sixties and can be considered to have pioneered modern-day literary emancipation. To this day, Ginsberg's work provides an exclusive perspective on an extraordinary life within the Beat Generation at a pivotal moment in the history of American literature.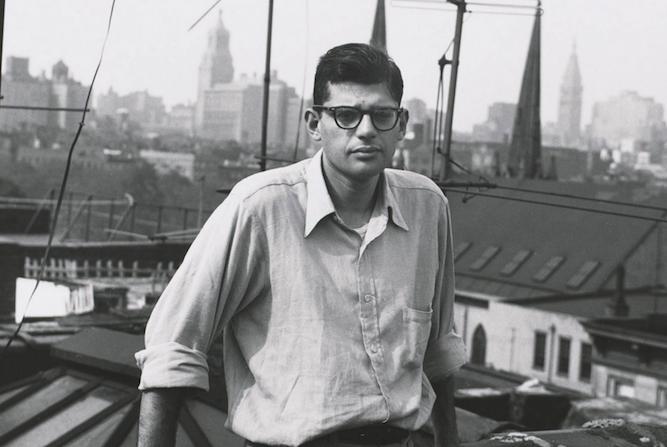 Born and raised in a Jewish family in New Jersey, Ginsberg rapidly developed his interest in literature through the guidance of his father, teacher and poet, Louis Ginsberg, and later through the works of the influential spearhead of free verse itself, Walt Whitman.
"What thoughts I have of you tonight, Walt Whitman, for I walked down the sidestreets under the trees with a headache self-conscious looking at the full moon."

– A Supermarket in California, Allen Ginsberg
Ginsberg's mother, Naomi Ginsberg, suffering from mental illness throughout Allen's childhood, influenced much of his later work through her paranoia. Her last letter to him, sent from one of the many hospitals that she was admitted to, is a heart-breaking indication that her delusions persisted despite her treatment: "the key is in the window, the key is in the sunlight at the window—I have the key—get married Allen don't take drugs—the key is in the bars, in the sunlight in the window". Ginsberg later dedicated a biographical poem, "Kaddish", to her struggles with institutionalisation and her psychiatric disorder.
"Only to have seen her weeping on gray tables in long wards of her universe
[…]
with your eyes running naked out of the apartment screaming into the hall
with your eyes being led away by policemen to an ambulance
[…]
with your eyes of divorce
with your eyes of stroke
with your eyes alone
with your eyes
with your eyes
with your death full of flowers"

– Kaddish, Allen Ginsberg
It was in 1945 at Columbia University, New York, that Ginsberg met Lucien Carr, Jack Kerouac, William S. Burroughs, Gregory Corso and John Clellon Holmes among other future Beat writers. They developed the idea of a "new vision" in opposition to classical literary ideals and bonded over their hopes for post-war America. These were formative years in terms of Ginsberg's style and beliefs; his creativity evolved through the encouragement of his new friends and his experimental student lifestyle. In 1993, at a talk given to a gathering of Buddhist students, he described these early academic endeavours as a preoccupation with "poetry as a kind of gnostic probe into new consciousness or a manifestation of new consciousness". Even then as a young adult, Ginsberg insisted upon the importance of candour within poetry, which remained the main focus of his literary work throughout his career.
"Today out the window the trees seemed like live organisms on the moon."

– The Trembling of the Veil, Allen Ginsberg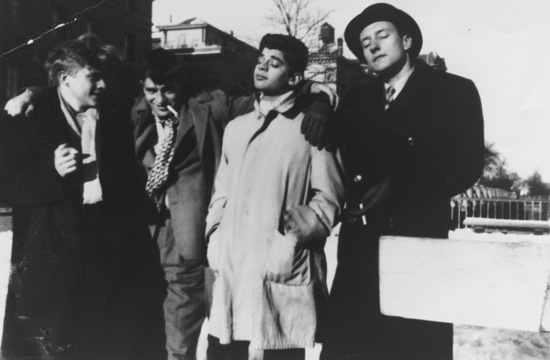 Despite Ginsberg's literary efforts, he regularly found trouble with authority on and off campus, facing disciplinary action and exploring the New York underworld. After an intermittent relationship with the University, he graduated in 1948. He had a turbulent affair with Neal Cassady, most famous for his literary alter-egos Dean Moriarty, Cody Pomeray and the driver of the bus in "The Electric Kool-Aid Acid Test". Soon after this relationship came to an end, Ginsberg experienced a life-altering auditory hallucination while reading poetry in his apartment in East Harlem. He heard the voice of William Blake reading the 1794 poem "Ah! Sun-flower" in a resonant voice "so completely tender and beautifully ancient". Ginsberg claimed that he was entirely sober at the time of the hallucination and at first even thought it was the voice of God that had come to him in some form of religious visitation.
"My body suddenly felt light, and a sense of cosmic consciousness, vibrations, understanding, awe, and wonder and surprise. And it was a sudden awakening into a totally deeper real universe than I'd been existing in."

– The Paris Review 1965 Interview, Allen Ginsberg
Following this occurrence, Ginsberg embarked on a journey of self-discovery in pursuit of the reason behind this hallucination. He sought a way to integrate his new perspective on consciousness into everyday life. He set off on what he called the first big trip of his life – hitchhiking along the west coast to Mexico, where he worked on a plantation until he had the money to continue on to San Francisco. The other Beats slowly gathered in the Golden Gate city to contribute to what became known as the San Francisco Poetry Renaissance. After the aforementioned extraordinary Six Gallery Reading, publicist Lawrence Ferlinghetti sent Ginsberg the following telegram: "I greet you at the beginning of a great career. When do I get a manuscript of Howl?" The result of the legal battle following the publication of the poem confirmed that social commentary and aesthetic power were legal defences against a charge of obscenity.
"Robot apartments! Invisible suburbs! Skeleton treasuries! Blind capitals! Demonic industries! Spectral nations! Invincible madhouses! Granite cocks! Monstrous bombs!"

– Howl, Allen Ginsberg
Not only driven by clutching at the memories of his literary hallucination, Ginsberg remained deeply preoccupied with the political and social state of America. He decided that gaining an outside perspective through international travels would be useful in forming political solutions. Over many years, he travelled through Cuba, Peru, Bolivia, Chile, England, France, Morocco, the Czech Republic, Greece, and Japan among other places. During 1962 and 1963, he explored India with his partner Peter Orlovsky. He wrote extensively about his experiences among the homeless and his search for enlightenment among monks. He encouraged his American friends to join him through long letters within which he described his adventures.
"All over India everywhere there's free or cheap places to stay […]. If there's a holy man around you can have a darshan (his presence) or talk with him […]. I asked where can I get a Guru? And he smiles and touches his heart and says the only Guru is your own heart […]. Peter's all drest in flowing silken shirt and heading down-town to Mahim to the Chinaman humming Bach. The Indians are all friendly and dig him as some sort of American saddhu, so he's expansive and talks a lot and now I shut up and get mad at him occasionally but then I realize who cares? and go about my sunset."

– Letter from Allen Ginsberg to Jack Kerouac, from Bombay, India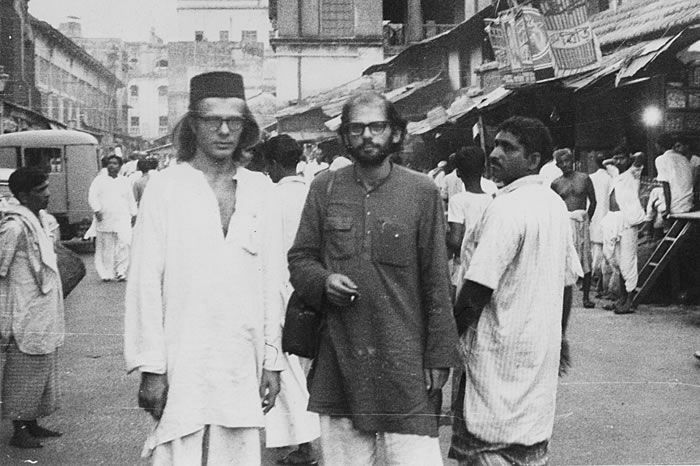 After these travels, Ginsberg returned to the rising anti-war, counterculture movement of the sixties and he is widely considered to have been the Beat that bridged the gap between his generation and these younger activists of similar mind. Deeply concerned by the Vietnam War, he threw himself into advocating pacifism and coined the term "flower power" in 1965. He was among the group of campaigners who conceived the plan to March on the Pentagon in 1968. He wrote numerous essays campaigning for free speech, the demystification of certain drugs and gay rights. He was open about his sexuality throughout his time in the public eye, encouraging other artists out of the shadows of shame and metaphor.
"I'm with you in Rockland
where we wake electrified out of the coma by our own souls' airplanes roaring over the roof
they've come to drop angelic bombs the hospital illuminates itself imaginary walls collapse O skinny legions run outside O starry-spangled shock of mercy the eternal war is here O victory forget your underwear we're free
I'm with you in Rockland
In my dreams you walk dripping from a sea journey on the highway across America in tears to the door of my cottage in the Western night."

– Howl, Allen Ginsberg
He continued to create revolutionary literature, inspired by his fellow Beats, his craft landing somewhere between the common Beat ideal of spontaneous prose and masterful revisions within his free verse. He often centred around the pre-established focuses of modernism – consciousness within the constraints of capitalism. He saw poetry as the true expression of the interior of man's mind, a "rhythmic articulation of feeling".
"It seemed to me that the poetic critics, in so disowning the new open poetics and the freedom of mind, desire, imagination, were setting the mental stage for repression of political liberty in the long run- a political liberty that could only be defended by the undaunted, free, bold, humorous imagination, open field mentality, open field poetics, open field democracy."

– When the Mode of the Music Changes the Walls of the City Shake, Allen Ginsberg
In his older age, Ginsberg claimed his biggest influence among his companions was Jack Kerouac, best known at the time for "On the Road" among other novels. In an interview in 1965, Ginsberg said he believed Kerouac to have been and still be the greatest writer in the United States. Following a conversation with Herbert Huncke, street hustler and friend, Jack Kerouac was in fact the first to use the word "Beat" to refer to their generation. He defined it later as meaning spiritually illuminated through having nothing left to lose. The more commonly known term "Beatnik" only appeared later in the press, a media stereotype used to criticise architects of Beat literature such as Ginsberg, who admittedly never failed to fuel their criticism. Kerouac distanced himself from Ginsberg and the rest of the Beats towards the end of his life and alcoholism began to affect his health. Despite this, Ginsberg displays a profound sadness after the author's death in 1969, noting in his journal "at dusk I went out to the pasture & saw thru Kerouac's eyes the sun set on the first dusk after his death […] his mind my mind many ways." Ginsberg outlived many of his friends but fought to keep their memories alive. In 1974, he founded a school of creative writing, literature, and poetics in Colorado, which he named the "Jack Kerouac School of Disembodied Poetics".
"I walked on the banks of the tincan banana dock and sat down under the huge shade of a Southern Pacific locomotive to look at the sunset over the box house hills and cry.
Jack Kerouac sat beside me on a busted rusty iron pole, companion, we thought the same thoughts of the soul, bleak and blue and sad-eyed, surrounded by the gnarled steel roots of trees of machinery."

– Sunflower Sutra, Allen Ginsberg
Interested in rock and roll and blues, Ginsberg experimented with music in his later life. He performed his poetry to songs composed by himself or by musicians with whom he worked, such as Patti Smith, Bob Dylan, The Clash and Paul McCartney. During his appearances on live late night shows, he performed satirical music with lyrics denouncing the political issues he was still fighting. During these appearances, he complained about the censorship involved in American television, comparing it to what he had experienced within literature at the beginning of his career. Described by William F. Buckley as slightly politically naïve on his show "The Firing Line", Ginsberg could never be accused of losing hope in his vision of a brighter future for America.
"America I have given you all and now I am nothing.
[…]
America when will we end the human war?
Go fuck yourself with your Atom bomb.
I don't feel good don't bother me.
I won't write till I'm in my right mind.
America when will you be angelic?
[…]
Everybody's serious but me.
It occurs to me that I am America.
I am talking to myself again."

– America, Allen Ginsberg
In his last years, as he experienced increasingly serious health issues, the theme of mortality began to creep into his work in a more significant way. In his journals, it can be noted that he worried about all he had accumulated throughout his life, despite trying to live as a minimalist. He writes, "now I'm a senior citizen and stuck with a million books, a million thoughts, a million dollars, a million loves, how will I ever leave my body? Allen Ginsberg says, 'I'm really up shit's creek'." He died of liver cancer on April 5th, 1997 in Manhattan, spending his last moments with family, friends and Tibetan Buddhist lama Gelek Rimpoche. Ginsberg's partner, Peter Orlovsky, described it a few hours later as a very peaceful death. In the 21st century, Allen Ginsberg's work is remembered as a landmark within freedom of expression and a phenomenon of the literary vanguard.
"I wake up in the morning
with a dream in my eyes
but you are gone in NY
remembering me good
[…]
I want love I was born for I want you with me now
Ocean liners boiling over the Atlantic
Delicate steelwork of unfinished skyscrapers
Back end of the dirigible roaring over Lakehurst
Six women dancing together on a red stage naked
The leaves are green on all the trees in Paris now
I will be home in two months and look you in the eyes"

– Message, Allen Ginsberg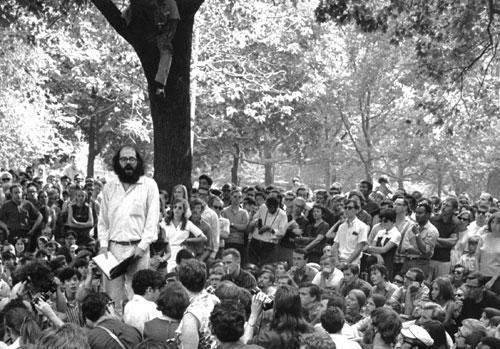 Disclaimer: I have read and enjoyed Allen Ginsberg's poetry for years on an academic and personal basis. While I was researching for this article, I discovered the association he had in his later life with NAMBLA. Although he claimed this affiliation with the organisation was rooted in his belief in free speech and no allegations of inappropriate relations with minors were ever made, I felt it was important to bring up this involvement and denounce it. Any network that seeks to blur the lines of the age of consent should be condemned for what it is: an apologia faced with the sexual abuse of minors. As a fan of Ginsberg's work, it was an uncomfortable discovery to make and I considered abandoning the project. Ultimately, I decided that the article could still be read for what it is – a simple biographical account of the parts of Ginsberg's life and literature that lead him to be considered one of America's greatest poets.